Glovesmith Custom Gloves
Custom Made in USA
Custom Elite
Custom Select
Custom Limited
Glovesmith Personalized Gloves
Glovesmith Stock Gloves
Glovesmith American Elite
Glovesmith Elite
Glovesmith Select
Glovesmith Limited
Field Commander

Baseballs & Softballs

Glove Repair Center
New Lace Colors Available
Bulk Glove Laces
Single Glove Laces
Laced in Palm Pads
Glovesmith Wrist Wrap
Glove Oil
Replacement Webs
Thumb Loops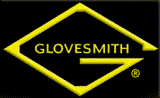 USA Sports Direct
is a Glovesmith Inc. official retailer. We specialize in custom gloves but also stock the full line of Glovesmith stock gloves.
Partners:

All transactions are placed over
Mal's e-commerce
HACKER SAFE
certified servers.



Home > Glovesmith Limited Baseball & Softball Gloves


Glovesmith Limited Series

Lightly Oiled Black Steerhide
1/4" lacing
Cowhide Binding
Leather Lining
Index Finger Pad
Palm Pad

1125L - $99

1150L - $99

1200L - $99

1250L - $99


1125L
$49.99 - Sale
Glovesmith Limited Series - The Limited Series is crafted from our lightly oiled Black Steerhide for a short break-in period. We use pro patterns, 1/4" lacing, and cowhide bindings and all leather linings to ensure durability. Finally there is a glove as exceptional as your play. At Glovesmith we go to great lengths in selecting only the finest leathers and applying time-honored craftsmanship to create the highest value for our ball playing customer. We know we are producing a special product, one that will become a part of many memories and in itself become a prized possession. That is why baseball is our only business.